The youth of today are the leaders of tomorrow.

 
We believe that here, and want to provide you the chance to receive one of our high school scholarships.
The CCU Scholarship program is now closed for 2022.
---
Check out our deserving recipients!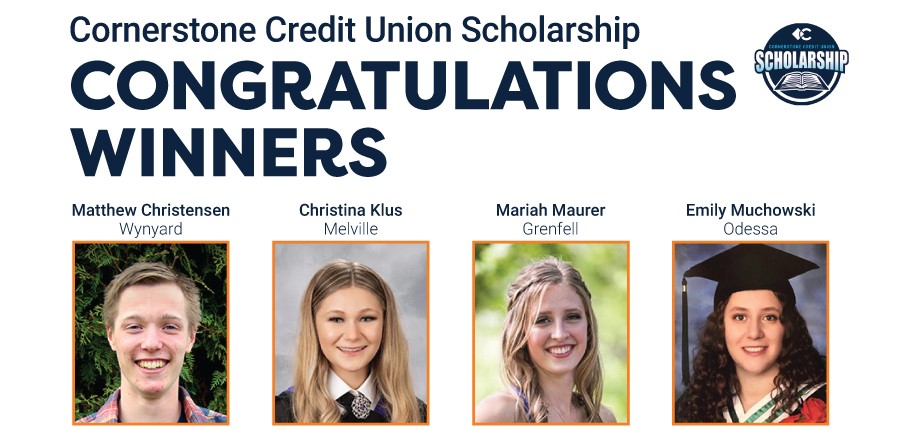 Cornerstone Credit Union Scholarship
---
Heading off to college or university in the fall? Not only do we want to help you with your financial needs, we want to help make it a bit easier on your pocketbook by offering 8 - $500 scholarships to our graduating members.


How does it work? 
Applicants must submit the required application form.

At the time of awarding the scholarship, the applicant is enrolled full time in post-secondary studies in a university, college, technical school or other recognized institution.

Applicants must currently be attending high school and graduating in June 2022.

Applicants must attend an approved post-secondary institution in the Fall of 2022.

Students must also live in or attend a high school in a community or R.M. where a Cornerstone Credit Union or legacy branch is located.

Application:
The applicant shall provide the following documents via email to marketing@cornerstonecu.com or drop off at any of our Cornerstone Credit Union branches to the attention of Communications Department for the consideration of the Cornerstone Credit Union Scholarship.

Ensure the following is included in your submission:
Part 1: Submit an online application here: We are no longer accepting applications.
Part 1a): Write a short essay (500 words or less), provide a PowerPoint presentation or a video which highlights:   
Your community involvement: include school activities and any extracurricular activities.

Your personal values: include what's important to you.

An idea you have for Cornerstone Credit Union to be more relevant to your age group.

Part 2: Email the following to marketing@cornerstonecu.com
Transcript of secondary school marks

Proof of Post-Secondary Institution Enrolment

Cornerstone Credit Union reserves the right, in its sole discretion, to modify, amend or cancel the Cornerstone Credit Union Scholarship program at any time without notice, and to decide all questions respecting the awarding of Scholarships, and the administration of the terms and conditions of the program.

Those who provide false information to Cornerstone Credit Union at any time will not be eligible to receive a scholarship.

To be eligible for a scholarship, applicants must:




a) be in their final year of high school




b) be a Canadian citizen or have permanent resident status;




c) certify that all the information provided on the Program application form ("Application") and in all the accompanying documents is true, accurate and complete to the best of their knowledge.

By submitting an application, the applicant authorizes Cornerstone Credit Union to collect, use, store and confirm information about the applicant, provided on the Application submitted (including references) to those who need to know such information for the purposes of administering and promoting the Cornerstone Scholarship program.

Recipient must:

attend school on a full-time basis (as defined by the school)

be enrolled in a course of study leading to a first degree/diploma the following fall

All Recipients must inform themselves as to the tax consequences of receiving the Scholarship.

All Recipients will be required to sign a Declaration and Release which will entitle Cornerstone Credit Union to use the Recipient's name, city and province of residence, and photograph, without further compensation for any publicity carried out by Cornerstone Credit Union with respect to the Scholarship program.
Don't let money worries hold you back from the career of your dreams. A Cornerstone Credit Union Student Loan allows you the flexibility to finance your education and make interest-only payments while you are attending school. We'll work with you to determine how much you need to get through school and then design a plan that removes financial worry from your full plate. Interest-only payments will continue for six months after you've completed your program, and your interest rate will remain the same for the duration of your loan. 
We're on Social! Connect with Us. 
Follow, like, share and interact with us today!